Our partners.
Our main collabor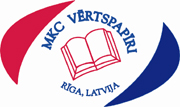 ation partners are:
Educational centre "Vertpapiri", that provides seminars and course for bookkeepers and financial specialist to raise their qualification. Centre often offers interesting courses under programs of the Institute of Professional Financial Managers, workshops on vital topics of banking activities and regular workships for the book-keepers.

AirBaltic – one of the largest airlines in the
Baltic States. AirBaltic offers direct flights to many Europe's cities from two capitals of Baltic States – from Riga and Vilnius. At the present moment AirBaltic has seven Boeing 735-500 and two Fokker 50 airplanes.